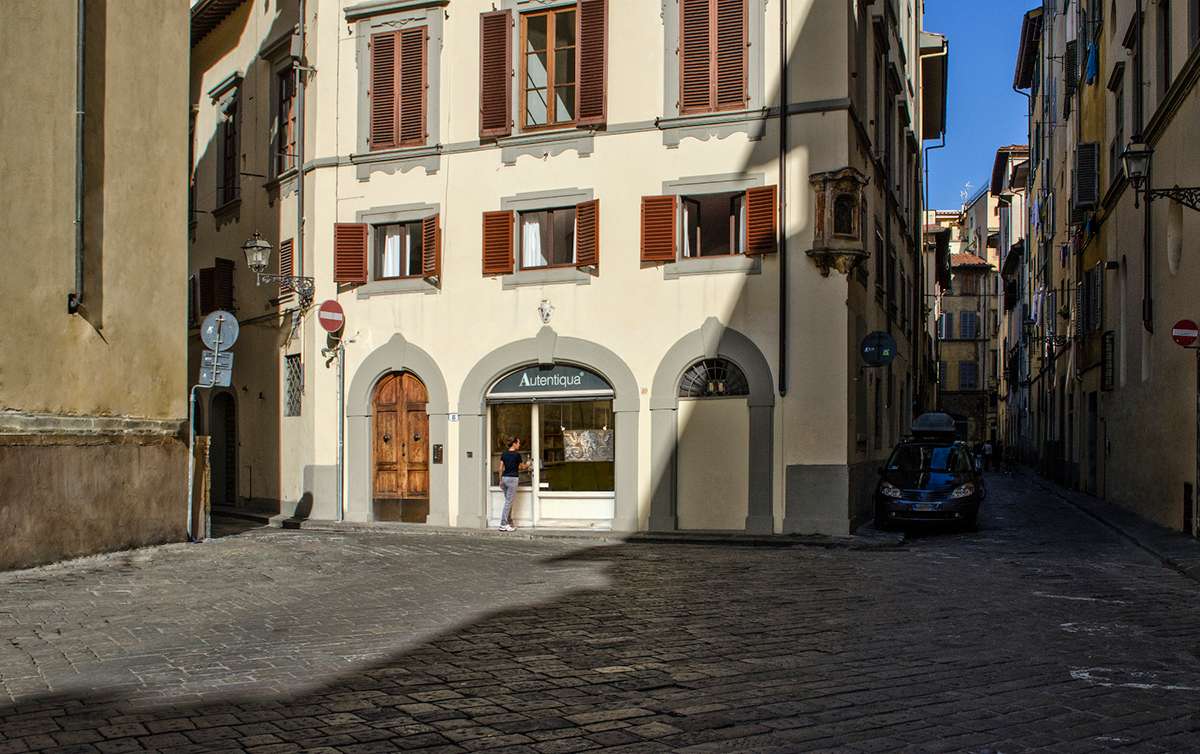 Autentiqua - about us: an art studio in Santo Spirito - Florence
Love for art, passion for restoration, the mastering of traditional techniques, a desire to give shape to creativity by constantly experimenting new projects.Autentiqua is all this, and much more: it's an art studio located in the heart of Florence, where past and present meet.
A traditional art workshop with a strong contemporary vision
Autentiqua's creations are born from a masterful combination between the charm of antiquity – between an object or a material that carry their own history – and the rewriting of every single piece in an artistic, unique, and authentic way.
The history of an art and craft workshop in the heart of florence
The history of Autentiqua continues the tradition of the ancient Florentine workshops – the much-celebrated Renaissance "botteghe" – where manual skills and artistic genius were two sides of the same coin, and the figures of craftsman and artist merged into one single mastery. Such is the imprint that Marino Cappellini has been giving to the workshop where he embraced the profession of restorer in 1958.
Restoration was an art he had learnt from master craftsmen but developed in a very personal way, combining traditional know-how and experience with a strong artistic flair.
These age-old techniques have been handed down by Marino Cappellini to his children, Tiziana and Leonardo, who learned their father's craft with great passion and love, and have brought new precious artistic contributions to the workshop's character.
 "Works, studies, projects and creations – the result of multiple abilities and specific skills: knowing how to work with one's hands and heart is a timeless value."
Leonardo Cappellini: between tradition and innovation
Leonardo Cappellini joined Marino's workshop in 1985, and day after day he trained as an apprentice under his father and many other master craftsmen accustomed to converse with Art, in the Florence of yesteryear. These characters, teachings and stories are impossible to forget for Leonardo, who continues to homage them in each and every one of his creations.
Leonardo learned the techniques and secrets of the trade, and managed to merge theory and practice, passion and knowledge, history and innovation in a perfect mix; all combined with a strong, personal creative vein.
"Today Leonardo carries on his creative activity in his workshop with a strong determination to keep alive a precious historical, artistic and cultural tradition."
The workshop opens to the world for the new millennium
Thanks to his refined taste and his ability with colors, patinas and materials, Marino Cappellini's relations with architects, antique dealers, gallery owners, interior decorators, collectors and art lovers expanded from Florence and Tuscany first to Italy, and then worldwide.
Today, the history of Autentiqua continues with far-sighted clients and important collaborations: experiences and moments full of inventiveness, inspiration and genius, of creative adventures and prestigious outcomes.

And finally, Autentiqua lands on the web with a virtual art gallery that aims to open the doors of its Florentine atelier to Beauty lovers from all over the world.